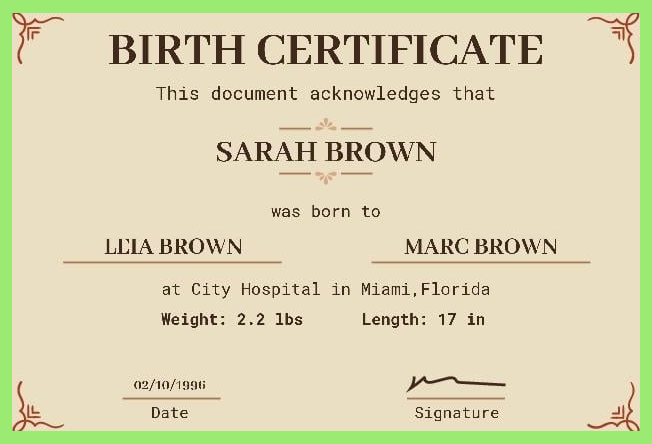 Fill out one simple form and receive a copy of your birth certificate in a few days.
Kein persönlicher Besuch erforderlich.
Alle Dienstleistungen werden aus der Ferne erbracht.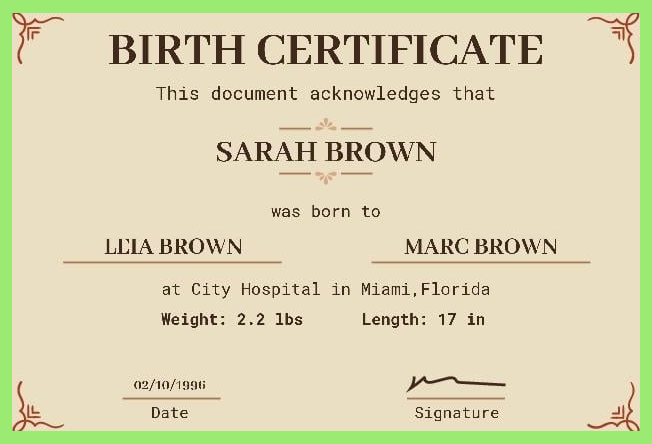 Dokumente
Wir zertifizieren jedes Jahr
5-Sterne-Bewertungen
auf Google und Trustpilot
Stressfrei
heiter und stressfrei
Request your Birth Certificate in Portugal from anywhere
100% SCHUTZ PERSONENBEZOGENER DATEN
Sicherheit auf Bankniveau und Datenverschlüsselung
KEIN PERSÖNLICHER BESUCH ERFORDERLICH
Alle Dienstleistungen werden aus der Ferne erbracht
ÜBERALL
Diesen Service können Sie überall und jederzeit in Anspruch nehmen
Obtaining a certified copy of your Portuguese birth certificate is a hassle-free process designed to save you time and stress. Instead of dealing with the intricacies of the certification process on your own, many people find it incredibly beneficial to engage our services.
Auf diese Weise können Sie lange Warteschlangen und Sprachschwierigkeiten vermeiden und bürokratischen Verwicklungen entgehen. Die Vorteile der Inanspruchnahme unserer Dienstleistungen sind zahlreich und unverzichtbar.
What steps should I do to get Portuguese birth certificate?
Mit E-Residence vereinfachen wir das Verfahren zur Beschaffung Ihrer Dokumente.
Sie können damit rechnen, sie innerhalb weniger Stunden bis Tage zu erhalten.

1
Senden Sie Ihre Dokumente
Laden Sie Ihre Dokumente über ein schnelles Online-Formular hoch

2
Überprüfen Sie Ihre Identität
Überprüfen Sie Ihre Identität in wenigen Minuten
3
Beglaubigtes Dokument erhalten
Sie erhalten Ihre beglaubigten Dokumente in wenigen Tagen
Hier finden Sie Antworten auf häufig gestellte Fragen
How to get a birth certificate in Portugal ?
During some official procedures in Portugal, you may be required to present a birth certificate . For example, if you were born in Portugal but are a citizen of another country, and you wish to request nationality or a tax number (NIF) , you will need to present your birth certificate . So let's explore together where to get your Portuguese birth certificate, how to get it, and finally what reasons might lead you to need it.
What is a birth certificate ?
A birth certificate is a document attesting to the birth of a person and is often used in certain administrative procedures requiring proof of a person's identity and existence . On a Portuguese birth certificate, you will find the following information :
Page number ;
Registration number ;
Type of birth certificate ;
Book number ;
Identification number of the national register ;
Civil status information (name, surname, etc...) ;
Where to request a birth certificate in Portugal ?
Previously, it was only possible to request for a birth certificate by physically traveling to Portugal, and therefore you had to be physically present in Portugal to obtain it. Nowadays, it is possible to request for a Portuguese birth certificate entirely online , using companies that do the application for you. In this way, you will get your birth certificate by email , in PDF format, without even needing to be present in Portugal .
How do I authenticate a birth certificate ?
To authenticate a birth certificate, you can check, for example, that it contains all the information that should be in a Portuguese birth certificate . However, this verification is not necessarily sufficient to authenticate the certificate , so to be completely sure of its authenticity, you will have to make an application yourself with the information contained in the birth certificate that you want to authenticate. It is possible to request with a name other than the one requesting the certificate , and this application can be done entirely online.